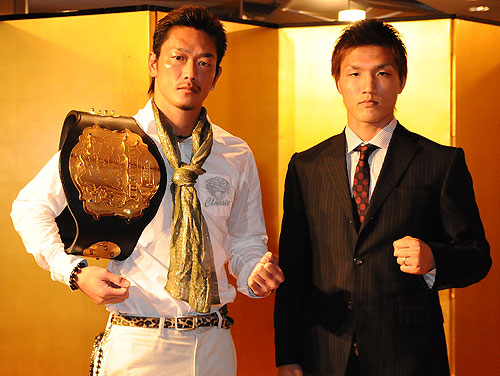 After announcing about a week ago that Ryuji Kajiwara would defend his 63kg title at Krush.14 on December 9th, which is also the final 2 rounds of the Krush Supernova tournament, Krush has announced Kajiwara's opponent to be none other than WBC Muay Thai Japan Lightweight champion Rashata. AJKF product Kajiwara earned his Krush title in the 63kg tournament held over the past year, first defeating Naoki Ishikawa in a rematch before the tournament, then rattling off decision victories in each round over TaCa, Kizaemon Saiga and Koya Urabe. Kajiwara went on to compete in the 2011 K-1 63kg Japan tournament, losing to Masaaki Noiri in the quarterfinals. Rashata has been on a roll since 2009, going 7-2-1 since the start of that year and picking up the WBC Japan title, as well as defending it twice. In this stretch, Rashata earned wins over former AJKF champions Hisanori Maeda, Genki Yamamoto, Masahiro Yamamoto and Hiromasa Masuda. A scalp of another AJKF regular would be big for Rashata, as being Krush champion would be great publicity for the young, talented fighter.
Also announced for the card were the tournament reserve fights which pit Shimpei Keita vs Sho Ogawa and Daizo Sasaki vs Kengo Sonoda, all of whom were eliminated in the quarterfinal round. Sho Ogawa lost to HIROYA in the Block A final, Sasaki to Masaaki Noiri in Block B, Keita to Koya Urabe in Block C and Sonoda to Yukimitsu Takahashi in Block D.
In other news, Sweden's Rumble of the Kings promotion has announced a fight with 2010 K-1 World MAX Finalist Yoshihiro Sato taking on Swedish fighter Abbe Joof. Joof has fought at Rumble of the Kings on past occasions, most notably taking on Artur Kyshenko in 2009. Sato made it to the finals of last year's K-1 MAX tournament, losing to Giorgio Petrosyan in the finals and has gone on a bit of a rough stretch since, going 2-2 with wins over Shemsi Beqiri and Albert Kraus with his losses to Andy Souwer and Armen Petrosyan, however all fights, aside from the Souwer fight, were close decisions and likely could have gone either way.
Already set for that card are kickboxing bouts between Artur Kyshenko and Yodsanklai Fairtex, as well as Chahid Oulad el Hadj taking on Dzhabar Askerov. There are also MMA bouts that pit Ray Sefo against Jorgen Kruth and Marius Zaromskis against Bruno Carvalho.{jcomments on}