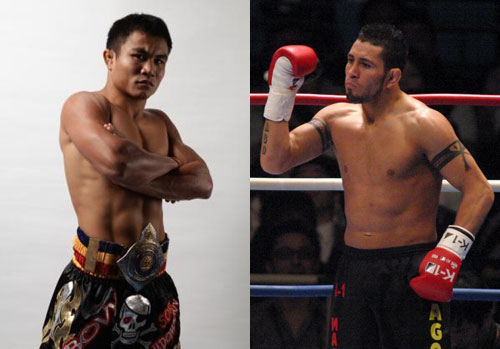 Shootboxing and Shooto have announced four more bouts for the Shootboxing portion of their co-promotion Shoot the Shooto on November 6th, however 3 of the four bouts are Shootboxing vs other kickboxing organizations as opposed to kickboxing vs MMA.
First, Shootboxing convert Bovy Sor Udomson has been announced to take on K-1 and It's Showtime fighter Gago Drago. After starting 2010 2-1 with an exciting win over Takaaki Umeno in Shootboxing, Bovy lost 5 straight fights starting with a loss in the quarterfinals of the 2010 S-Cup to Andy Souwer. However, Bovy recently snapped his losing streak with a much needed win over the surging Toby Imada. Drago has struggled over the past year as well, losing 5 straight fights, most recently to Artur Kyshenko in last month's It's Showtime Fast and Furious tournament. Drago should be considered the favorite here, but with the inconsistencies of both fighters, this could be seen as a toss up and could turn into a wild brawl as both fighters are accustomed to.
The next matchup is former boxer and Shootboxing convert Satoru Suzuki taking on the Swiss-born former AJKF Welterweight champion Christophe Pruvost. Suzuki's initial foray into kickboxing was rather unsuccessful as he lost his first 5 fights all by TKO. However, 4 of his first 5 fights came against Masato, Mike Zambidis, Lim Chi Bin and MMA fighter Kenta Takagi. Suzuki first fought in Shootboxing in April of 2010 and has not fought for another organization since, going 4-3 with a pair of wins over Kenji Kanai and a win over MMA fighter and recently crowned Shooto Welterweight champion Kuniyoshi Hironaka while his losses have come to Takaaki Umeno, Hiroki Shishido and Henry Van Opstal. Pruvost is a Swiss-born fighter who came to Japan in 2006 to learn kickboxing, ultimately joining the Shibuya Scramble gym. He fought most of his career in AJKF, starting 7-0 before taking 3 straight losses, the last of which was to Soichiro Miyakoshi. Pruvost bounced back from those 3 losses to earn a title shot against Welterweight champion Yuya Yamamoto, winning the fight by a 4th round doctor's stoppage and earning the title of last AJKF Welterweight champion. Purvost hasn't fought much since AJKF's decline with only 1 fight in 2010 and none in 2011.
Another bout announced is former MA Kick Super Lightweight and Welterweight champion Hiroshi Mizumachi taking on Shootboxing's Masaya Matsuhana. Mizumachi has fought sparingly lately, with only 4 fights since the beginning of 2009 and all of them have been losses, but this fight marks his Shootboxing debut. Matsuhana had a pair of fights in the K-1 Koshien 70kg circuit, losing in the semifinals of the 2009 tournament to Shintaro Matsukura. He also picked up a couple of wins in Shootboxing this year.
The final fight announced was a women's matchup between two participants of Shootboxing's Japan Women's Preliminary tournament, MINA and MMA fighter Emi Fujino. MINA upset Valkyrie Featherweight champion and 2009 Girls' S-Cup finalist VV Mei in the quarterfinals of the Japan Preliminary tournament before losing to Seo Hee Ham in the semifinals. Fujino lost in the quarterfinals to Seo Hee Ham.
Full announced fight card after the break
65kg Fight: "Lion" Takeshi Inoue vs Hiroki Shishido
65kg Fight: Hiroaki Suzuki vs "Wicky" Akiyo Nishiura
70kg Fight: Andy Souwer vs Toby Imada
70kg Fight: Bovy Sor Udomson vs Gago Drago
72kg Fight: Henry Van Opstal vs Akihiro Gono
70kg Fight: Satoru Suzuki vs Christophe Pruvost
62.5kg Fight: Hiroshi Mizumachi vs Masaya Matsuhana
57kg Women's Fight: Emi Fujino vs MINA{jcomments on}