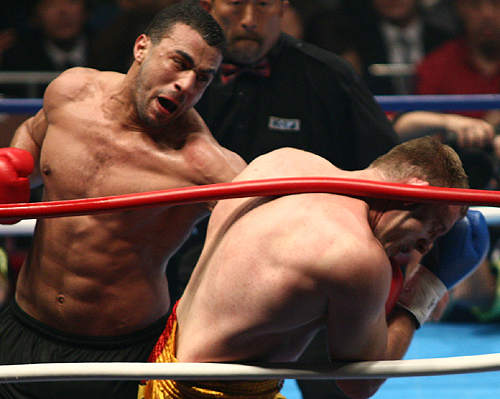 K-1 Event Producer Sadaharu Tanikawa held a live U-Stream press conference today regarding the 2011 World Grand Prix FINAL 16 in Nanjing, China on October 29th.
Regarding China and the venue, Tanikawa announced that K-1 has plans to return for the WGP Finals later this year in China or another area in Asia. FEG has a joint deal with regional broadcasting company Jiangsu Broadcasting Corporation. From what I've gathered, this station only broadcasts in the Jiangsu province, so I'm not sure if there will be any way for the rest of the country to watch it. The venue for the event is the Nanjing Olympic Sports Center Gymnasium which holds 13,000.
Tanikawa also announced that It's Showtime's Simon Rutz is going to cooperate with K-1, and has made Badr Hari, Tyrone Spong, Daniel Ghita, Hesdy Gerges, Ruslan Karaev, Melvin Manhoef, Ben Edwards, Sergeii Lascenko, Rico Verhoeven, Anderson "Braddock" Silva, Paul Slowinski, Dzevad Poturak, Mourad Bouzidi and Rustemi Kreshnik available to K-1 for the Final 16. K-1 also mentioned they have been in talks with Jerome LeBanner, Peter Aerts and Bas Boon. Unfortunately, defending champion Alistar Overeem will be unable to compete due to his UFC contract.
The competitors that K-1 has announced for the event so far are Badr Hari, Hesdy Gerges, Tyrone Spong, Ruslan Karaev, Daniel Ghita, Ben Edwards, Melvin Manhoef, Dzevad Poturak, Sergii Lashchenko, Rico Verhoeven, and Anderson "Braddock" Silva. There's video of the press conference, with English subtitles, after the break.
UPDATE: Hesdy Gerges said on Twitter that he's set to face Errol Zimmerman.
{jcomments on}