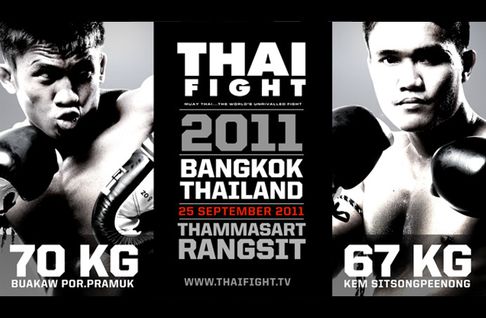 Today Muay Thai Authority has informed us of the lineups for Thai Fight's two tournaments, taking place at 67kg and 70kg. Notable names for the tournament include Buakaw Por. Pramuk, Abraham Roqueñi, Mosab Amrani and Hafid el Boustati. Each fighters in both tournaments are from a different country, making this a truly international affair. Here's the tournament lineups below:
-67kg (147lbs):
Chi Bin Lim vs. Fabio Pinca
Kem Sitsongpeenong vs. Yokoyama Shigeyuki
Mosab Amrani vs. Houcine Bennoui
Ibrahim Chiahou vs. Alessio Angelo

-70kg (154lbs):
Buakaw Por. Pramuk vs. Hicham Chaibi
Mickael Piscitello vs. Hafid el Boustati
Jose Barradas vs. Vuyisile Colossa
Abraham Roqueñi vs. Nishikawa Tomoyuki




The tournament will take place over three events, with these matches listed above being the quarter finals, held in Bangkok, Thailand on September 25th. The semi finals will be held on October 24th and the final on November 27th.
There are some very good match-ups in the quarter finals and they're something that everyone should definitely look forward to. We can expect videos to come out quickly, as the events are being televised in Thailand. [source]