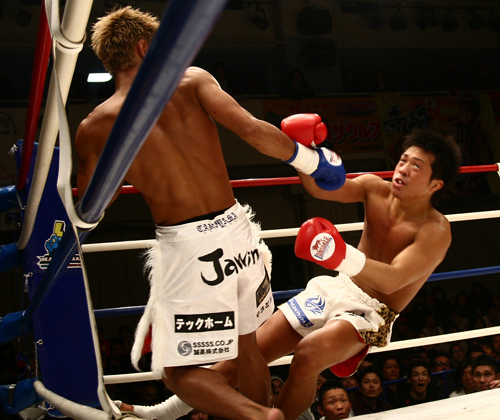 Krush.17 took place yesterday at Korakuen Hall in Tokyo, headlined by 70kg champion Kenta's first defense of his title against Yasuhiro Kido, as well as super fights Masaaki Noiri vs Cedric Peynaud and Koya Urabe vs Kizaemon Saiga, and the second round of the Krush -63kg WILDRUSH League.
In the main event, Yasuhiro Kido got revenge in his rematch with Krush 70kg champ Kenta, scoring a spinning backfist KO at 1:28 of the second round. Kido (27-13-1, 13 KO) appears to have started off very strong, using his length and step-up knees to hurt Kenta (23-10-3, 8 KO). He carried that momentum to the second round, where he landed a huge spinning backfist that Kenta tried to get up from, but could not, earning Kido his second high-profile KO in the past 6 months, as he stopped Shintaro Matsukura back in December with the same spinning backfist. Kido is now on a 3-fight win streak, all by KO, and has won 7 of his last 8, with the sole loss coming to Kenta, and has re-established himself as a top Japanese fighter at 70kg after his struggles in 2009 and 2010. Kenta is now on a 3-fight losing streak, as he lost to Yuya Yamamoto after defeating Kido in last year's K-1 MAX Japan Tournament, then lost his return fight to TOMOYUKI last month. I wouldn't be surprised if his next fight is a bounce-back against a lower-tier fighter as he's gone from the top of the pack to the middle in less than a year.
In the co-main event, Krush Supernova tournament winner Masaaki Noiri got his first taste of foreign competition and won a tough decision over WKA Super Lightweight champion Cedric Peynaud on scores of 30-28 and 29-28(x2). Noiri (12-2-0, 5 KO) seems to have struggled a bit early, but Peynaud (71-9-2, 45 KO) was unable to capitalize due to Noiri's defense, and Noiri was able to take over with his diverse offensive arsenal. After the fight, Noiri stated he wanted an ISKA World Title shot, so if his wish is granted he'll most likely face 63kg champ Thomas Adamandopoulos, who defeated Keiji Ozaki in Krush last year to claim the ISKA world title. The win was Noiri's 6th straight.
In a 63kg fight, Koya Urabe snuck by Kizaemon Saiga, earning a majority decision on scores of 30-30 and 30-29(x2). It appears as though Urabe (17-3-0, 2 KO) had trouble finding Saiga (8-5-1, 1 KO) throughout the fight, but Urabe was the aggressor and earned a round on two judges' scorecards. This was Urabe's first fight back since being brutally KO'd by Masaaki Noiri in the Krush Supernova Tournament finals in December and until video comes out, it's hard to say whether Saiga is just a bad matchup, or if the defensively flawed Urabe was a little gun shy, as he has been in the past, and was unwilling to open up. Saiga was coming into the fight riding a 3-fight win streak, but again comes up short against the division's elite. It is unclear whether this fight will earn Urabe a title shot, as his performance doesn't seem to have been very impressive and champion Ryuji Kajiwara is his teammate, but Krush isn't the deepest organization and unless Krush pushes Noiri into a title fight, they have few options outside of Urabe until the WILDRUSH League is over. If Noiri doesn't get an ISKA or Krush title shot, I'd like to see him against Saiga, who would present an interesting and possibly difficult style matchup for Noiri.
In the 63kg WILDRUSH League, which will determine a 63kg title challenger, tournament favorites Hideaki Yamazaki and TaCa squared off in a rematch, with Yamazaki avenging his only pro loss with a unanimous decision on scores of 29-27, 30-27 and 30-26. Yamazaki (13-1-1, 6 KO) scored a knockdown in the opening round and commanded the rest of the fight. He is now at the top of the standings with 4 points, while TaCa drops down to second with his 3 points. In another WILDRUSH League fight, Hitoshi Tsukagoshi scored a knockout with a left hook over NOMAN at 44 seconds into the 3rd round in what seems to have been a pretty entertaining fight. Tsukagoshi (10-2-0, 6 KO) lost a decision to Yamazaki in the first leg of the WILDRUSH League, but is now in 2nd place with 3 points here while NOMAN has just 1 point from a 1st leg draw. In the final WILDRUSH League fight, Yukimitsu Takahashi fought to his second consecutive draw, this time against Naoki Terasaki on scores of 30-29 and 29-29(x2) in what appears to have been a very entertaining fight. Reports show both fighters landing hard and often and pictures show the faces of both fighters beat up. Takahashi (11-4-3, 4 KO) now has 2 points while Terasaki earns his 1st point after being knocked out by TaCa in the 1st leg.
Finally, in a 70kg fight, Shintaro Matsukura snapped a 3-fight losing streak with a dominant decision over Taisei Kondo on scores of 30-23 and 30-24(x2). Matsukura (5-4-0, 3 KO) upset Yuya Yamamoto in the opening round of the Krush 70kg tournament with a late knockdown, but lost in the semifinals in an entertaining fight with Yutaro Yamauchi. He went on to rematch Yamamoto in the 2011 K-1 MAX Japan tournament, then was knocked out by Yasuhiro Kido in December.
The WILDRUSH League standings are now:
1. Hideaki Yamazaki (2-0-0, 4 points)
2. TaCa (1-1-0, 3 points)
2. Hitoshi Tsukagoshi (1-1-0, 3 points)
4. Yukimitsu Takahashi (0-0-2, 2 points)
5. Naoki Terasaki (0-1-1, 1 point)
5. NOMAN (0-1-1, 1 point)
Quick results and pictures after the break:
Photos and results thanks to gbring and boutreview
70kg Title Fight: Yasuhiro Kido def. Kenta (c) by 2nd round KO (spinning back-fist) at 1:28 to claim the Krush 70kg Title
63kg Fight: Masaaki Noiri def. Cedric Peynaud by 3rd round Unanimous Decision (30-28, 29-28, 29-28)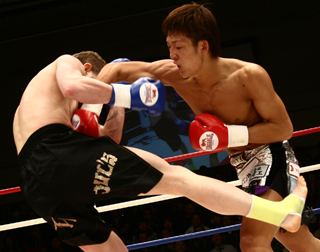 63kg WILDRUSH League Fight: Hideaki Yamazaki def. TaCa by 3rd round Unanimous Decision (29-27, 30-27, 30-26)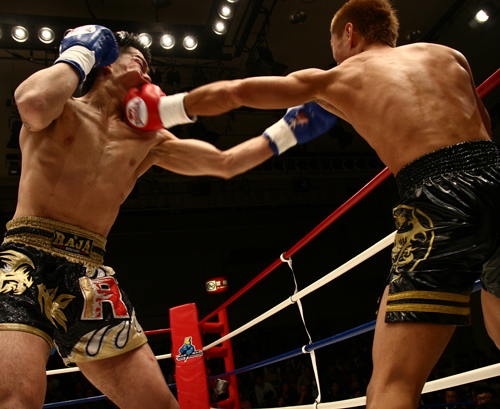 63kg WILDRUSH League Fight: Hitoshi Tsukagoshi def. NOMAN by 3rd round KO (left hook) at 0:44
63kg WILDRUSH League Fight: Yukimitsu Takahashi and Naoki Terasaki fought to a 3rd round Majority Draw (30-29, 29-29, 29-29)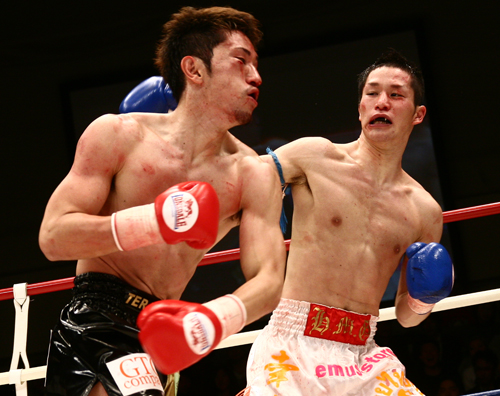 63kg Fight: Koya Urabe def. Kizaemon Saiga by 3rd round Majority Decision (30-29, 30-29, 30-30)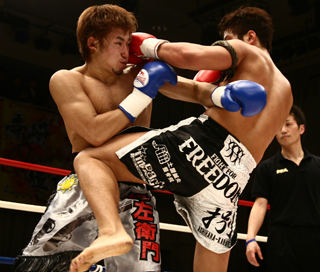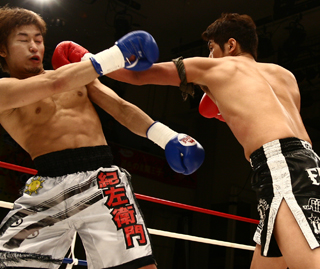 70kg Fight: Shintaro Matsukura def. Taisei Kondo by 3rd round Unanimous Decision (30-24, 30-24, 30-23)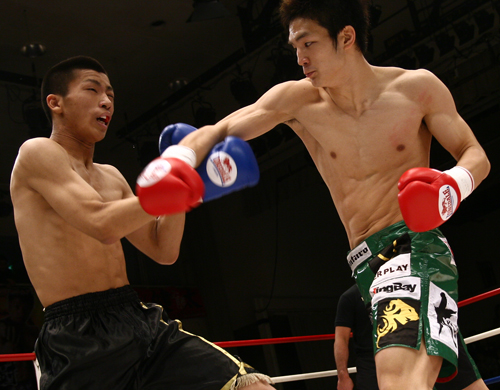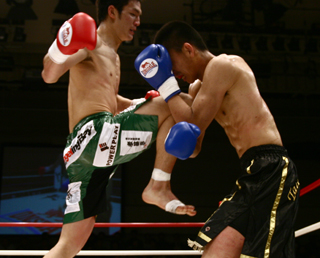 70kg Fight: Takuro Moriya def. Zaurus Asami by 3rd round Majority Decision (30-29, 29-29, 30-29)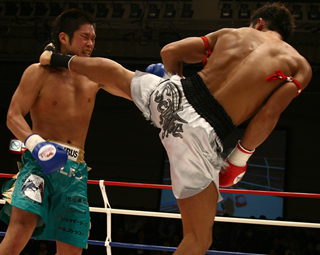 63kg Fight: Makihiro Keita def. Yoshihiro Keio by 1st round KO (left low kick) at 2:59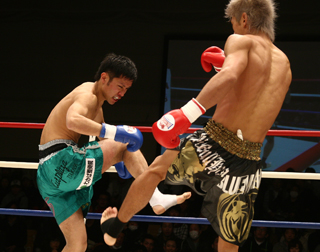 55kg Fight: Takeru def. Ikki Tanaka by 2nd round KO (punches) at 2:54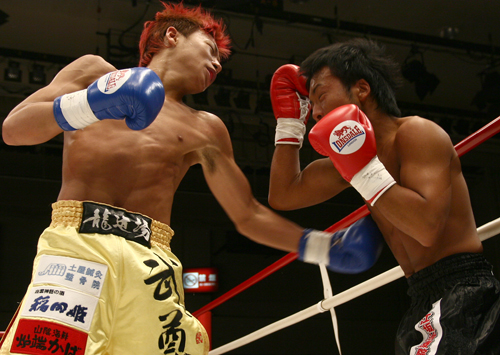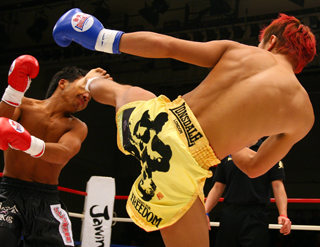 {jcomments on}