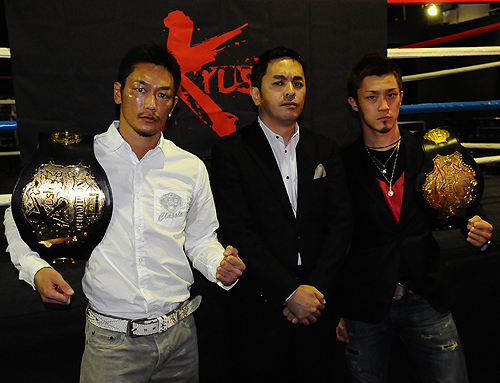 WBC Japan Lightweight champion Rashata was originally set to face Krush 63kg champion Ryuji Kajiwara for his Krush title at Krush.14 on December 9th, the same event holding the semi-finals and finals of the Krush Under-22 63kg Supernova Tournament. However, an injury has forced Rashata out of the fight and K-1 -63kg 2010 tournament champion Tetsuya Yamato has stepped in to replace him. Yamato has been up and down since winning the K-1 tournament last year. In his first fight after the GP, he was defeated soundly by Koya Urabe, then fought to a draw against MMA fighter "Wicky" Akiyo Nishiura at Dynamite!!! 2010. He picked up a win over Makoto Nishiyama in NJKF, then squeaked past HIROYA in the quarterfinals of the 2011 K-1 63kg Japan tournament before losing to Urabe again in the semifinals. He picked up a TKO win in August over Coke Chunhawat before losing a wide decision to Jomthong Chuwattana in his most recent outing. Though the opponent has changed, the challenge has not gotten easier for the champion Kajiwara. Rashata would likely have been the favorite, but Yamato is a tough style match-up for Kajiwara. Yamato possesses fight-ending power in his hands and, if he is given an opening, is able to land. His biggest weaknesses are his lack of speed and how he cracks under offensive pressure. Kajiwara does not possess the speed he needs to frustrate Yamato, however if he could keep Yamato on the end of his jab and kicks, he could be able to cruise to a decision win. However, this fight has the possibility of becoming a brawl reminiscent of Kajiwara's incredible fight with Hisanori Maeda back in AJKF as both men have the capability to give out and take a good amount of punishment.
Krush also revealed plans about their future in 2012, putting out a schedule of events as well as announcing an interesting Super Six-type round robin, titled the "Krush -63kg League 2012"(tentative name), to determine a challenger for the 63kg title at the end of next year. Though in some ways similar to Showtime's Super Six World Boxing Classic, the Krush "Super Six" takes six of the 63kg division's middling fighters and puts them in a round robin tournament, with each fighter facing one another over the course of 2012. Fights will be 3x3 and there will be no extension rounds, as the scoring system will be 3 points for a knockout, 2 points for a decision win, 1 point for a draw and 0 points for a loss. There will be no playoff system, as the person with the highest point total at the end of the round robin stage will be granted the title shot. Krush has announced five of the six participants for the tournament and they are Hideaki Yamazaki, Naoki Terasaki, TaCa, NOMAN and Hitoshi Tsukagoshi. One thing to be noted is that several of these fighters have faced each other in the past.
The first round of the tournament is set to take place at Krush.15 on January 9th, the first Krush event of 2012.Also tentatively scheduled for that event are the Krush 55kg and 60kg champions', Shota Takiya and Hirotaka Urabe, first scheduled defenses. Though no opponent has been named for either, candidates at 55kg for Shota Takiya are Ryuya Kusakabe, though Kusakabe has a fight just 2 and a half weeks before, or recently crowned ISKA champion Nobuchiko Terado. For Urabe, he could face RISE champion Kosuke Komiyama or Masaaki Noiri, should he be ready just a month after the Supernova tournament. Naoki Ishikawa is also an interesting opponent as he stated he wants to fight the winner of the Supernova tournament in his retirement fight, though Urabe holds a win over Ishikawa and he may see it fit to try and avenge that loss in his retirement fight.
After the break, Krush's 2012 schedule as well as a small breakdown of the five Krush -63kg League 2012 fighters.
Read more...