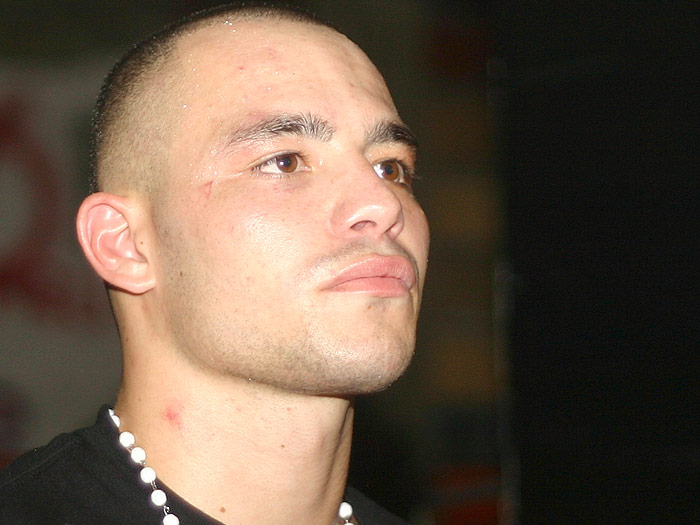 Murat Direcki is the former It's Showtime 70kg MAX Champion and has had a very good career, picking up some great wins but struggling against some of the elites. RvR has been on fire, winning the It's Showtime Fast & Furious MAX tournament and announcing himself to the world. Robin is looking to keep his momentum going in 2012 with a big win over Direcki.
Both men tentative to engage, feeling each other out while Direcki keeps Robin at a safe distance with push kicks, but Robin follows up with a beautiful, Gokhan Saki-like combination with his hands and low kicks. Robin rushes in and lands a monster left hook and then swarms Direcki who is able to recover and get some distance. Direcki looks to keep Robin at a distance with some kicks and jabs to finish out the round. Great first round, nice and close with Direcki controlling the pace but Robin having moments of brilliance.
The second round sees Direcki continuing to keep Robin at a distance while Robin looking to get on the inside and land some great combos. Both men are just exchanging looking for an opening, with Direcki throwing in more volume and using his push kick beautifully. Robin is landing the stronger shots and stumbles Direcki with a massive leg kick, he is able to recover but the ref calls time to have a doctor treat Direcki's cut. I'm glad that I don't have to score this round or fight. Wow.
Third round sees Direcki still using the push kicks and his jab to control the distance while Robin backs him up looking to land big combinations. Direcki probably scoring more, but weaker shots compared to Robin's. Robin puts together a combination and finally scores with a right that sends Murat into the ropes, but Direcki recovers and in a clinch there is a clash of heads that leads to a cut on Direcki's other eye. Robin finally having some luck with combinations ending by coming up the middle. He is finally scoring some good shots, but Direcki is able to hold on.
We go to the score cards and the judges 4-1 give it to Robin van Roosmalen. Murat Direcki grabs the mic and announces his retirement, but after a performance like that, one would hope not.
Read more...