Photo of the Day: Peter Aerts Victorious in Japan Featured
For Mr. K-1, Peter Aerts, his December schedule was left open for the first time in a very long time as K-1 would not run a World Grand Prix this year. For Aerts this meant time to branch out and fight for other promotions. He has been keeping busy by competing under professional wrestling rules under the IGF banner alongside of other K-1 alumni like Yuichiro "Jienotsu" Nagashima, Jerome Le Banner and Bob Sapp. Aerts is also set to compete on the Genki Desuka!! show on New Year's Eve, but once again, in a professional wrestling match and not an actual Kickboxing bout.
Over the weekend in Japan, Peter Aerts took on "Mr. Kamikaze," a Japanese Heavyweight Kickboxer on a show titled Hinokuni Kakuto Densetsu Legend 2. Aerts easily won the bout with three knockdowns in the first round. [source]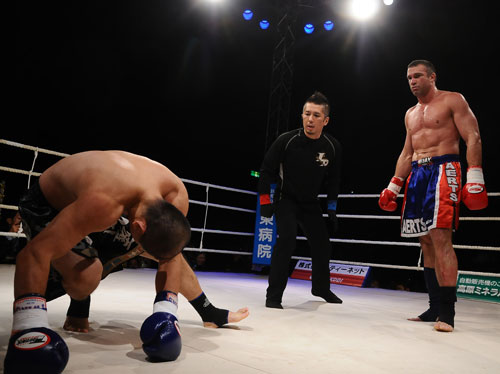 Dave Walsh has been covering MMA and Kickboxing since 2007 before changing his focus solely to Kickboxing in 2009, launching what was the only English-language site dedicated to giving Kickboxing similar coverage to what MMA receives. He was the co-founder of HeadKickLegend and now LiverKick. He resides in Albuquerque, New Mexico where he works as a writer of all trades.
His second novel, Terminus Cycle, is available now via Kindle and Paperback.
Dave (a) LiverKick dot com | @dvewlsh
Website: www.dvewlsh.com
back to top