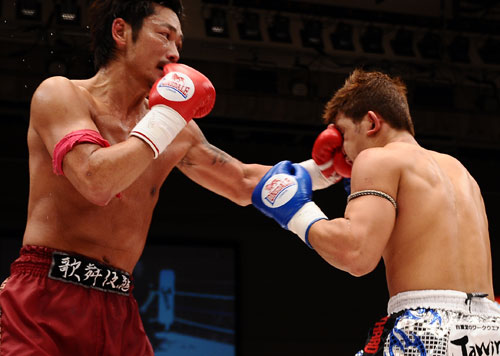 Krush.18 took place earlier today, headlined by Krush 63kg champ Ryuji Kajiwara taking on 2008 K-1 Koshien champ Hiroya. Also on the card were 55kg champ Shota Takiya taking on the UK's Reece Crooke and 60kg champ Hirotaka Urabe taking on MMA fighter Masato Kobayashi.
In the main event, Krush Lightweight champion Ryuji Kajiwara took a unanimous decision over 2008 K-1 Koshien champion Hiroya on scores of 30-28(x3). Kajiwara (22-10-1, 6 KO) dropped Hiroya (10-6-0, 5 KO) in the first round and maintained his lead, with rounds 2 and 3 going 10-10 on all 3 judges' cards. The win is Kajiwara's third straight and makes him 8-1 in his last 9 with his only loss in that stretch coming to Masaaki Noiri. Talent-wise, it's hard to argue that Kajiwara is #3 at his weight in Japan, but wins over Koya Urabe, Kizaemon Saiga, Tetsuya Yamato, Naoki Ishikawa and now Hiroya make it hard to argue that he should be considered anything but #3. Kajiwara has adapted very well with age and his counter-punching style has worked wonders for him and his career, as he's managed to knock down top fighters en route to decision wins during his impressive stretch. This was Kajiwara's first fight since his first title defense against Tetsuya Yamato, so it's likely he could take another non-title fight before defending again, but when it comes time to do so, Masaaki Noiri and Keijiro Miyakoshi are at the top of the list of candidates. Hiroya is now riding a 3-fight losing streak and has seemed to hit a ceiling at this point in his career. Hiroya's defense is atrocious and with the first round knockdown, it doesn't seem like it has improved much. If he wants to start winning again and be considered an elite fighter, it may be best for him to get back to basics and start drilling defense.
In one of the night's co-features, Krush 55kg champ Shota Takiya brutalized ISKA UK 55kg champ Reece Crooke en route to a 3rd round KO via left hook at 2:22. Takiya (21-4-0, 13 KO) put his entire offensive arsenal on display in the first round, but it was in the second where the damage began to pile up as Takiya caused a cut on Crooke's ear. In the third round, Takiya landed a clean high kick that sent Crooke down, then put him away with a left hook. The report reads more or less like the beating Takiya put on Damien Trainor and he has now won 9 in a row, with 7 coming by way of knockout. Takiya is an animal and it's time for Krush to bring in either Ryuya Kusakabe or KENJI for a rematch as it is evident that these are the only two guys who can test Takiya right now. Crooke (23-7-2, 9 KO) had just won the 55kg ISKA UK title and makes it 0-3 for British fighters in Krush so far, with none of them fairing well.
In the other co-feature, Krush 60kg champ Hirotaka Urabe made short work of MMA fighter Masato Kobayashi, scoring a head kick knockout at 1:23 of the 1st round. This was Urabe's (12-5-2, 6 KO) first fight since drawing Naoki Ishikawa in his first title defense back in January and puts him on a 6 fight unbeaten streak. His next fight will be against the winner of the Krush 60kg tournament final between Katsuya Goto and Fumiya Osawa. Kobayashi (1-1-0, 1 KO; 6-3-1 MMA) was coming off of a DEEP record 9-second knockout at DEEP 57th Impact in February, but he was sort of thrown to the wolves here as a tune-up for Urabe.
In the third leg of the -63kg WILDRUSH League, 2nd placed Hitoshi Tsukagoshi picked up a unanimous decision over Naoki Terasaki to give him a total of 5 points. Tsukagoshi is only 1 point behind league leader Hideaki Yamazaki and his only threat of being overtaken is TaCa, who could move into a tie for 1st with a knockout of Yukimitsu Takahashi at Krush.19.
Quick Results and event photos after the break
Results and photos thanks to GBRing and boutreview
64kg Fight: Ryuji Kajiwara def. Hiroya by 3rd round Unanimous Decision (30-28, 30-28, 30-28)
55kg Fight: Shota Takiya def. Reece Crooke by 3rd round KO (left hook) at 2:22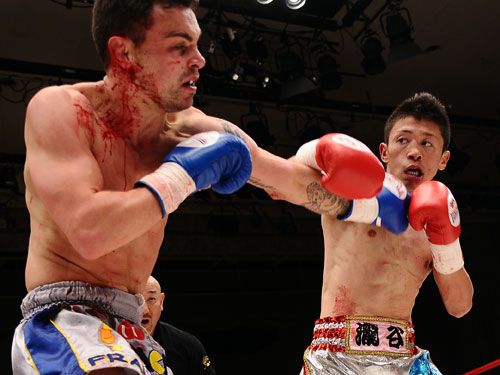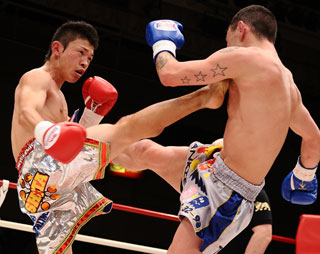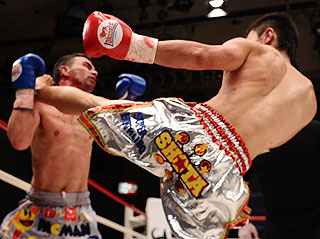 60.5kg Fight: Hirotaka Urabe def. Masato Kobayashi by 1st round KO (head kick) at 1:23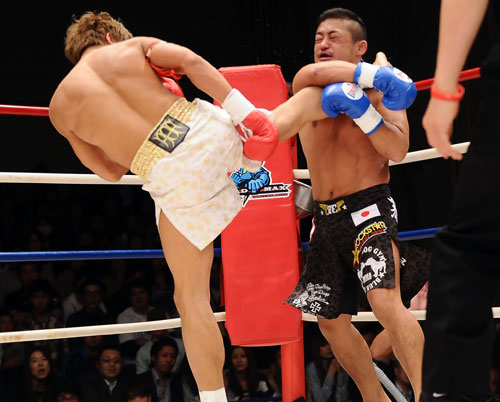 -63kg WILDRUSH League Fight: Hitoshi Tsukagoshi def. Naoki Terasaki by 3rd round Unanimous Decision (29-28, 29-27, 30-27)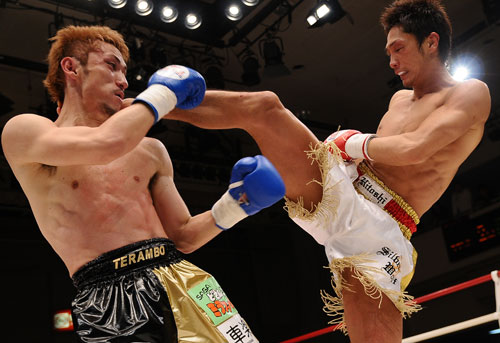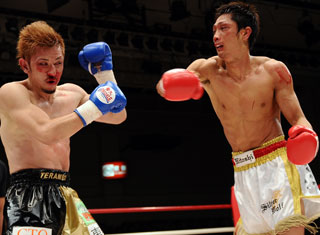 63kg Fight: Kazuki def. Kohei Nishikawa by 3rd round KO (right cross) at 2:06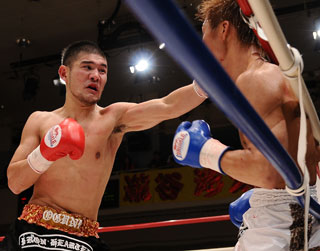 63kg Fight: Makihira Keita and Sho Senchaigym fought to a 3rd round Majority Draw on scores of (28-28, 27-28, 27-27)
55kg Fight: Takumi def. KO-ICHI by 1st round KO (right cross) at 2:13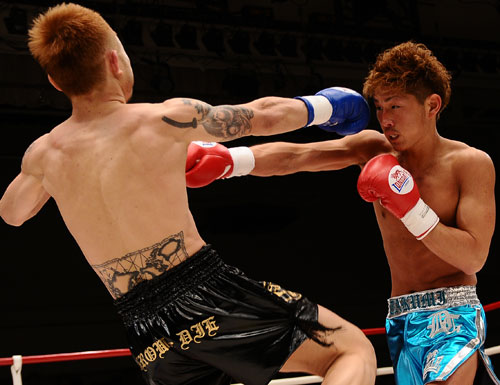 55kg Fight: Katsuki Sasaki def. Ryuma Tobe by 1st round KO (right hook) at 2:07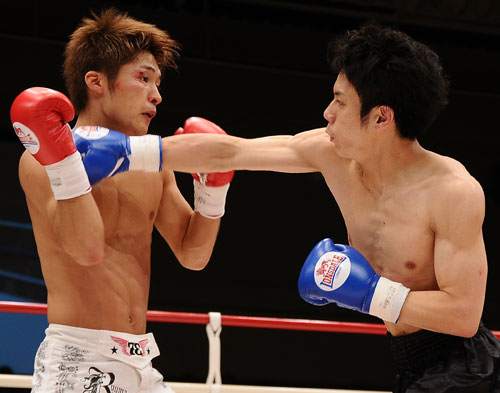 55kg Fight: Takeru def. Masaki Shimada by 1st round KO (body shot) at 2:03
{jcomments on}