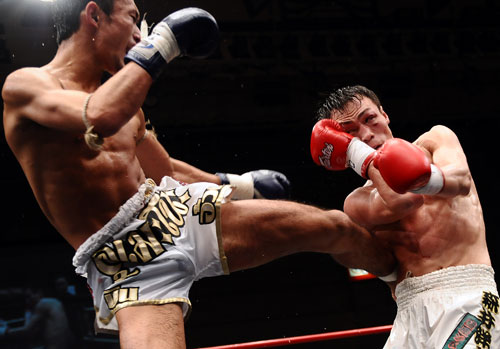 Earlier today at Korakuen Hall in Tokyo, the last major kickboxing event of the year took place, the final It's Showtime Japan show of the year, a co-promotion with the annual Fujiwara Festival. The card featured a Top of Featherweight showdown between Genji Umeno and Yosuke Morii, three WPMF Japan Title fights in T-98 vs Daiki Watabe, SHIGERU vs Takahito Fujimaki and Little Tiger vs Fir, a WPMF Japan #1 contender's bout between Ryuya Kusakabe and Sota Ichinohe and super fights that featured Masahiro Yamamoto, Naoki Samukawa and Atsushi Sasatani.
In the main event, Featherweight rivals Genji Umeno and Yosuke Morii finally squared off, and Umeno got the better of the affair, brutalizing Morii over the course of 5 rounds and earning a unanimous decision on scores of 50-45(x3). Umeno ran through Morii, battering his opponent's ribcage with mid kicks and scoring a down in the 2nd round. The win moves Umeno's record to an impressive 19-1 (9 KO) and puts him on a 10-fight win-streak. After the bout he announced that he was more or less done with the Featherweight division in Japan and was setting his sights on the top Thai fighters, calling out the likes of Saenchai Sinbimuaythai, Pornsaneh Sitmonchai, Jomthong Chuwattana and Pakon Sakyotin and stated that he wants to win a Lumpinee Stadium title. Morii (17-3-1, 7 KO) was on a 4-fight unbeaten streak heading into this fight and with Umeno supposedly leaving Japan, Morii assumes the role of divisional kingpin. An interesting next fight for him would be a defense of his WPMF Japan title against #1 ranked Yuji Umehara or Chao Shimura, who scored a win over the last man to beat Morii other than Umeno. Morii could also be an interesting fight for 55kg standouts Shota Takiya and Ryuya Kusakabe should either decide to move up in weight.
In the co-main event, T-98 claimed the WPMF Japan Welterweight Title in his third fight against champion Daiki Watabe, winning a majority decision on scores of 49-48, 50-48 and 49-49. The two first met in July of last year with the fight ending in a draw. Before the two met again this July at the first It's Showtime Japan event, Watabe had claimed the WPMF Japan title and T-98 had been on a slide, going 2-3 and falling out of contention. However, in their rematch T-98 was able to shut out Watabe and earn a unanimous decision. This win for T-98 (11-5-1, 5 KO) moves him to 2-0-1 against Watabe and puts him on a 4-fight win-streak. An interesting next fight for him would be a matchup for his WPMF Japan title against undefeated J-NETWORK champion Masato Otake. Watabe (12-10-1, 7 KO) now falls back into the long list of contenders at 67kg and should see himself in a rematch with Hideya Tanaka or Atsushi Sasatani, or even a fight with Kou Suman.
In a fight for the vacant WPMF Japan Super Featherweight Title, #1 ranked SHIGERU and #2 ranked Takahito Fujimaki fought to a majority draw on scores of 48-48(x2) and 47-48. Fujimaki scored a down in the first round, but SHIGERU took over in the later rounds to even the score and force a draw. The two will likely rematch at some point in the future.
In a bout to determine the next challenger for the WPMF Japan Super Bantamweight title, Ryuya Kusakabe snatched victory from the jaws of defeat, scoring a knockdown of former WPMF Japan Bantamweight champion Sota Ichinohe in the final round to earn him a unanimous decision on scores of 48-47(x2) and 49-46. After having his 7-fight win-streak snapped by Shota Takiya in the finals of the Krush 55kg tournament, Kusakabe (15-4, 7 KO) has put himself back on a 2-fight win-streak and now has the right to face WPMF Japan Super Bantamweight champion Yusuke Shimizu. Ichinohe (11-7-4, 8 KO) had his 3-fight win-streak snapped with a draw against Takuma Ito back in August.
In a 61kg fight, It's Showtime 61kg #1 contender Masahiro Yamamoto scored a unanimous decision win over Genki Kanazawa on scores of 30-25(x5). Yamamoto (36-10-6, 10 KO) scored knockdowns in the 1st and 2nd rounds to earn him the win. He has bounced back nicely from a rough 2010 with 3 straight wins over Arita Tsukahara, Kan Itabashi and now Kanazawa. At some point he will fight current It's Showtime champ Javier Hernandez but no date has been targeted for that bout.
Quick Results after the break
"Top of Feather Vol.2" 58.5kg Fight: Genji Umeno def. Yosuke Morii by 5th round Unanimous Decision (50-45, 50-45, 50-45)
WPMF Japan Welterweight Title Fight: T-98 def. Daiki Watabe (c) by 5th round Majority Decision (49-48, 49-49, 50-48)
WPMF Japan Super Featherweight Title Fight: SHIGERU and Takahito Fujimaki fought to a 5th round Majority Draw (48-48, 47-48, 48-48)
WPMF Japan Super Bantamweight #1 Contender Fight: Ryuya Kusakabe def. Sota Ichinohe by 5th round Unanimous Decision (49-46, 48-47, 48-47)
61kg Fight: Masahiro Yamamoto def. Genki Kanazawa by 3rd round Unanimous Decision (30-25, 30-25, 30-25, 30-25, 30-25)
57kg Women's Fight: Little Tiger def. Fir by Extension round Unanimous Decision (10-9, 10-9, 10-9)
72.5kg Fight: Naoki Samukawa def. Yuki by 3rd round Unanimous Decision (30-27, 30-27, 29-28)
67kg Fight: Atsushi Sasatani def. Kou Suman by 3rd round Majority Decision (29-28, 29-28, 28-28) {jcomments on}