From head kicks to spinning backfists to jumping knees, 2012 produced some brutal yet entertaining knockouts and luckily, most of them got uploaded to Youtube in one form or another. While I cannot say this is a definitive list, as 9 of my 10 nominations took place in Krush, this is the best I could do with the resources I had. 7 of the 10 have an accompanying video, but for the 3 that don't, the pictures say it all. Not surprisingly, 5 of the 10 were head kick knockouts that left the other fighter out cold. However, there was one that lifted itself above the others.
Winner: Hirotaka Urabe (vs Masato Kobayashi, Krush.18) - In what was one of the biggest mismatches of the year, Krush 60kg champ Hirotaka Urabe faced off against DEEP and GCM Flyweight Masato Kobayashi. While Kobayashi shared a name with the legendary Masato, he did not share his kickboxing skill. After hurting his opponent with a pair of flying knees and some punches in between, Urabe landed a high kick that made Kobayashi drop. He didn't get up. It was one of the year's most devastating knockouts and will probably stop Krush from booking a mid-level MMA fighter against one of their champions for a while.
Runners up: Yasuhiro Kido (vs Kenta, Krush.17) – The first time these two met, Kenta had all the momentum in the world while Kido was trying to pull himself out of a slide. In the rematch, the momentum had swung to Kido. He started off the 1st round with a beautifully timed knee that dropped Kenta. Then came the 2nd round, where, about half way into the round, Kenta had Kido in the corner and went to attack. Kido ate a right hand to the side of the head while ducking away and somehow, in a small window, Kido turned and landed a beautiful spinning backfist that put Kenta down and, upon attempting to stand up, Kenta didn't have his legs and the referee was forced to wave off the bout. It was not Kido's first spinning backfist KO, as he had stopped Shintaro Matsukura to end 2011 and it wouldn't be his last, as he finished Xu Yan in the K-1 Final 16 with the same maneuver.
Thomas Adamandopoulos (vs Ryuji Kajiwara, Krush.21) – Thomas Adamandopoulos was the first of many French fighters to compete in Krush, making his promotional debut in 2011, winning the ISKA World Super Lightweight title against Keiji Ozaki. His second appearance saw him face off against Krush 63kg champ Ryuji Kajiwara in a title fight. From what I can tell, the fight was pretty close, though Adamandopoulos was getting the better of the exchanges. Then half way through the second round, Adamandopoulos connected on a high kick that put Kajiwara out for good. This is one of the three fights that there is no video of, but the picture below speaks for itself.
Nobuchika Terado (vs Andy Howson, Krush.21) – Another entry from Krush.21 saw ISKA World Super Bantamweight champ Nobuchika Terado defend his title for the first time against the UK's Andy Howson. After being dropped twice himself, Terado knew he had to go for broke and somehow found it in himself to turn the tides and drop Howson in the 2nd round. That was followed up by two more knockdowns for Terado, who pulled off the exciting, improbable comeback win, a fight Krush named their 2012 Fight of the Year, as well as my favorite photo of the year of Terado walking away from Howson as the fight is called (featured below). Unfortunately, this is one of the other fights there is no video of.
Hirotaka Urabe (vs Fumiya Osawa, Krush.20) – Being the only person featured on this list twice, Hirotaka Urabe had quite a year in 2012. In this instance, he was defending his title against improbable 60kg tournament winner Fumiya Osawa, who had just a .500 record coming into the tournament. Urabe chose to spend most of the first round feeling out Osawa, throwing kicks from range and countering, then clinching whenever Osawa came at him with offense. In the last minute of the round, he started getting aggressive, but clearly he had seen something from the previous clinching. With about 30 seconds left in the round, the two were separated from a clinch and Urabe threw a perfect spinning back kick to the body, landing on the liver and sending Osawa to the ground in pain, where he was unable to get up.
Yuta Kubo (vs Yuya Yamato, Krush.22) – In Krush's first event to take place in Nagoya, they had set up a fun 5-match set of Nagoya vs Tokyo fights, with Yuta Kubo vs Yuya Yamato headlining. After the first 4 fights saw a 2-2 split, it was up to Japan's top two Welterweights to settle the score. After a strong first round, Kubo dropped Yamato with a right hand. When Yamato got up, he was promptly met with a left high kick that kept him down. Again, no video for this fight, but the series of pictures is quite amusing.
To read about the other 4 selections in this category, as well as videos for all fights except for Thomas Adamandopoulos vs Ryuji Kajiwara, Nobuchika Terado vs Andy Howson and Yuta Kubo vs Yuya Yamato, which I will post pictures for, click read more
Also, I had promised to do a post each day, but due to New Year's Eve plans, I won't be able to put the Fight of the Year and Fighter of the Year posts on time, but I will post them either both on January 1st, or one on January 1st and the last on January 2nd.
Yasuaki Koyama (vs Sittichai Saengmorakot, J-Network: Next J-Generation 2) – In the category's lone non-Krush selection, rising star and J-Network champion Yasuaki Koyama squared off against former Lumpinee Stadium champion Sittichai Saengmorakot. The first round saw Koyama landing combinations like he was in Street Fighter, while Sittichai was content to throw leg kicks and the occasional elbow. Towards the end of the 2nd, Sittichai landed a leg kick and began circling away, when Koyama connected on a perfect head kick that knocked him out cold.
Seiji Takahashi (vs Atsushi Ogata, Krush 70kg Youth GP Opening Round) – In the event's headlining super fight, NJKF Super Lightweight champion Seiji Takahashi was looking to rebound from a loss to Tetsuya Yamato while Ogata was looking to capitalize on his upset win over Toshiki Taniyama. Instead, what Ogata got was a taste of Takahashi's Kyokushin flare. After clipping and dropping Ogata with a right high kick, Takahashi threw a question mark kick that completely fooled Ogata as he was walking in, and dropped him before he knew what was coming. It reminded me of Yuta Kubo's knockout of Yoshimichi Matsumoto from the 2010 K-1 tournament, minus that terrible thudding sound of Kubo's shin connecting with Matsumoto's skull.
Koya Urabe (vs Hisaki Higashimoto, Krush.24) – Not to be outdone by his brother, Koya Urabe managed to get himself on this list this year after being on the wrong end of it last year, when he was added to Masaaki Noiri's eternal highlight reel as the victim of an amazing flying knee KO in last year's Youth GP finals. Higashimoto had a lot of hype coming in, as he had stopped Hiroya in the quarterfinals in his first pro fight. He proved that he was a legit contender in the first round as he went blow for blow with Urabe. However, in the second Urabe started to find holes and his work to the body started to pay off as Higashimoto began to slow and with 10 seconds left, Urabe landed a knee that started a flurry of clean, unanswered punches, yet Higashimoto found a way to stay on his feet. Urabe picked up in the 3rd where he left off in the 2nd and a knee followed by a few punches dazed Higashimoto. As he tried to hang on to Urabe, Koya threw another knee that sent Higashimoto into the ropes, where he was unable to steadily get up from and the fight was stopped. Urabe had redeemed himself with a highlight reel Youth GP finals knockout of his own.
Kotaro Shimano (vs SATOI, Krush-EX vol.6) – Being my only selection for this category that lacked any real significance and fighters of note, I chose this knockout because it teaches a lesson; keep your hands up. After a round and a half of fighting like a smart, intelligent fighter, SATOI scored a knockdown which immediately turned him into Floyd Mayweather in his mind. He neglected his hands as defensive tools and used solely head movement, which actually didn't work too badly for him throughout the rest of the 2nd, as he landed pretty well against Shimano. Then in the 3rd, he stuck with his 2nd round gameplan, even when Shimano started landing. After avoiding two punches by nonchalantly walking backwards, he continued to do so until he walked into the ropes, where Shimano landed a big left hook and begged the question that many had asked Zab Judah during his fight with Kosta Tszyu, "If you're so good, why are you on the ground?" Unfortunately, we were not treated to a Judah-esque chicken dance as SATOI was unable to get up from the ground.
Hirotaka Urabe vs Masato Kobayashi
Yasuhiro Kido vs Kenta 2
Hirotaka Urabe vs Fumiya Osawa
Yasuaki Koyama vs Sittichai Saengmorakot (fight highlights start at 8:00)
Seiji Takahashi vs Atsushi Ogata
Koya Urabe vs Hisaki Higashimoto
Kotaro Shimano vs SATOI
Thomas Adamandopoulos vs Ryuji Kajiwara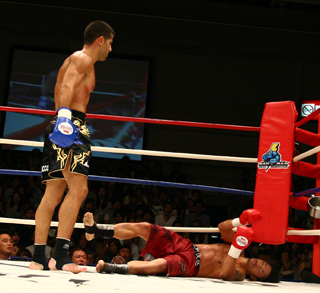 Nobuchika Terado vs Andy Howson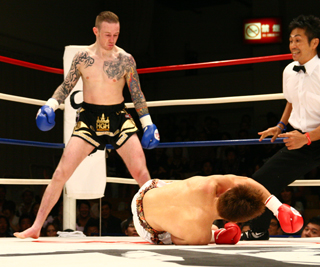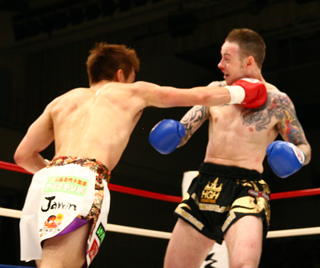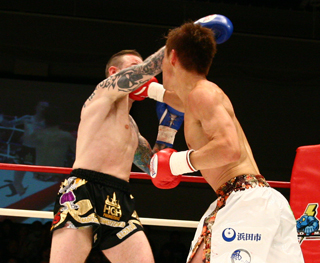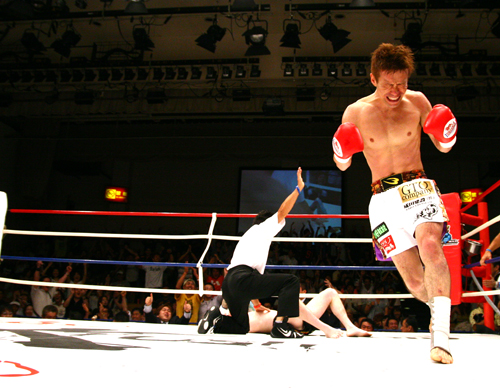 Yuta Kubo vs Yuya Yamato